Descrizione
CONAN e KA – ZAR
ALBO ORIGINALE DEL 1975
in questo numero non c'è KA-ZAR che è stato sfrattato a tempo indeterminato da parte della holding barbara, almeno fino a quando non pagherà le sue rate scadute del condominio (ossia nel n.33, quando così tornerà), al suo posto troviamo invece il brutale e manesco KING KULL di Valusia, condottiero di Atlantide sempre a ramengo, la cui disarticolata saga era stata lasciata in sospeso da oltre un anno (ultima apparizione su Thor Corno 89) e finalmente tutti i suoi fans e pure i denigratori dcl biondo scimmione selvaggio e primitivo possono pertanto esultare all' unisono così : "Che Kul !"
contiene inoltre :
THONGOR guerriero della perduta Lemuria
CONDIZIONI : BUONISSIME, L' ALBO NON E' DI BUST
A
Featured Characters:
Villains:
Baron Takkim (Death)
Lun-Faar (Death)
Tavashtri (a Gargoyle)
Armand
Womar
Brutos
Other Characters:
Arlinna
Krono
Zhadorr (Flashback)
Locations:
City of Thieves in Zamora
Synopsis
Conan has finally made his way to Arejnun and while trying to drink
his memories of the journey away, notices a young woman in a window. He
follows her and assists her in escaping a small group of thieves. The
woman, Arlinna, is being blackmailed by Baron Takkim to steal a treasure
from the merchant Lun-Faar, and allows Conan to safely escort her to
his quarters. She knocks Conan out and makes her way to Lun-Faar, who
believes she is Lady Asqueth, there to view his artifacts, including a
giant gargoyle statue. Arlinna attempts to steal the Dragon Head of
Koblar-Zann but is caught by Lun-Faar, who beats her and turns her
loose. He wants to see who she is working with, and orders the gargoyle,
in reality a demon bound by the merchant's willpower, to kill her
compatriot. Meanwhile, Conan has recovered and tracks the girl, who
confesses everything. The two go to Baron Takkim, so Conan can have
words with him, but the gargoyle attacks and kills Takkim first. It then
turns to Conan, but the fight with Conan so drains the mental energy of
Lun-Faar, that his mental control snaps, and the demon, furious at
being controlled, flies away to exact its revenge on its former captor.
Conan and Arlinna, unsure what has happened, decide to head back to his
place once again.
Notes
Freely adapted from "The Purple Heart of Erlik" by Robert E. Howard.
Featured Characters:
Other Characters:
Sharajsha of Zaar (enchanter/wizard)
Zamph

(a domesticated giant prehistoric rhino)
Locations:
Lemuria

Mountains of Mommur
Thurdis (Only in flashback)
Items:
Synopsis
Continued from last issue…
Sharajsha and Thongor rides Zamph (a domesticated giant
prehistoric rhino) to the wizard's home hidden beneath a stone slab in the
foothills of the Mountains of Mommur. As they went further into the shadowy
corridors and over bridges spanning rivers of flowing lava, Thongor pondered what
use a Black Druid of Zaar might have for a warrior such as he. Attended by
unseen servants and eating the wizard's food, Thongor looked over a map with
Sharajsha, discussing plans to find and repair his flying ship. Thongor was
suspicious, but he owed the wizard for saving his life and Sharajsha had said he
needed a warrior. He demanded to know Sharajsha's reasons, to which the wizard
replied that he had gazed into his magic mirror and seen the future, seen the
fire and ruin that would destroy mankind. Thongor angrily drew his blade from
its scabbard, unimpressed with 'parlor tricks' until he gazed into the mirror
himself and saw himself lying cold and dead.
Based on Thongor and the Wizard of Lemuria by Lin Carter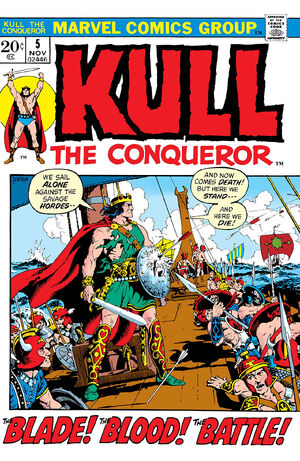 Featured Characters:
Supporting Characters:
Villains:
Prince H'Nar of Demascar (killed by Kull) (Death)
M'Ku (killed by Brule) (Death)
Krista
King Zakar
Other Characters:
Locations:
Synopsis
An ambassador Prince of neighboring Demaskar seeks Valusia's aid in fending off their rival, the country of Rikos and its sorceror King Zakar. Kull agrees, unaware that the Prince means to make sorcerous sacrifices of the Valusians.