Descrizione
Cod.EA

compatto contenente rese editoriali rilegate (con incluse le copertine) di tre numeri della collana di supereroi Corno :
SHANG – CHI MAESTRO DEL KUNG – FU

PRIMA SERIE (formato gigante )

editoriale Corno, 1978

la memorabile collana corno che ha fatto conoscere all' ottuso e rozzo pubblico italiano la commovente ed incazzatissima saga nippo-americana, ispirata alle capriole marziali di Bruce Lee, alle prodezze sushi di David Carradine, ai capitomboli ninja di Itto Ogami, alle imprecazioni zen di David Sylvian e alla virilità bonsai di Carl Douglas
CONDIZIONI MEDIOCRI, DISEGNO COLORATO DI BAMBINO (O BAMBINA?) IN SECONDA DI COPERTINA, COLORITURE A PENNARELLO NELLA PRIMA PAGINA DEI NUMERI 17 E 15, PICCOLE COLORITURE A PENNARELLO NELL'ULTIMA VIGNETTA A PAGINA 45 DEL TERZO ALBO, PICCOLO SEGNO A BIRO NELLA TESTATA DI COPERTINA, USURA IN COSTOLA, FRAMMENTO MANCANTE NELLA PUNTA DELL'ANGOLO SUPERIORE DESTRO DI RETROCOPERTINA, L'ALBO NON E' DI RESA
LEGENDA STATO DI CONSERVAZIONE
condizioni ECCELLENTI (o anche EDICOLA e/o MAGAZZINO) = si intende un oggetto nuovo e perfetto oppure usato senza difetti e praticamente ancora come nuovo, tenendone per quest'ultimo caso in conto ovviamente la datazione ; corrisponde a un range di grading internazionale compreso tra 8,5 e 9,8 (non assegniamo punteggi superiori a 9,8 perchè trattasi di tipi ideali a ns avviso più teorici e scolastici che reali e concreti, ogni manufatto umano in natura ha una percentuale insita e congenita seppur infinitesimale di imperfezione)
condizioni OTTIME = oggetto nuovo (o talora anche usato ma maneggiato e conservato con molta cura) in cui non si riscontra alcun difetto rilevante e degno di nota, tutt'al più qualche minimo segno di lettura o di uso ; corrisponde a un range di grading internazionale compreso tra 7 e 8,5
condizioni BUONISSIME = oggetto usato (ed in taluni casi anche fondo di magazzino soggetto a piccole usure del tempo) con lievi imperfezioni e difetti poco vistosi, generalmente molto marginali ed appena percepibili ; corrisponde a un range di grading internazionale compreso tra 5,5 e 7
condizioni MOLTO BUONE = oggetto usato con imperfezioni vistose e difetti abbastanza spiccati, pur se non completamente invalidanti (generalmente specificati nel dettaglio alla voce CONDIZIONI nella parte inferiore della descrizione di ogni singolo oggetto); corrisponde a un range di grading internazionale compreso tra 4 e 5,5
condizioni PIU' CHE BUONE / MEDIOCRI = oggetto usato con imperfezioni e difetti evidenti, smaccati, madornali ed invalidanti, assolutamente non collezionabile tuttavia idoneo per la semplice lettura o documentazione ; corrisponde a un range di grading internazionale inferiore a 4
per eventuali ulteriori dettagli aggiuntivi e specifici si prega di fare sempre riferimento alla voce CONDIZIONI nella parte inferiore della descrizione di ogni singolo oggetto
a disposizione moltissimi numeri delle altre serie Corno , Star e Marvel, sono gradite le mancoliste.

I TEMPI IN CUI VIVIAMO SONO SEMPRE PIU' DURI, E ANCHE SOPRAVVIVERE SU EBAY STA DIVENTANDO OGNI GIORNO PIU' DIFFICILE. SE VOLETE CONTINUARE A DELIZIARVI O INFURIARVI LEGGENDO E USUFRUENDO DELLE NOSTRE ATIPICHE ED INCONVENZIONALI INSERZIONI, VISTO CHE NON COMPRATE MAI NULLA, AIUTATECI ALMENO CON IL VOSTRO APPOGGIO E IL VOSTRO SOSTEGNO, PER UNA VOLTA TANGIBILE E COMMENSURABILE. ACCETTIAMO OGNI FORMA DI CONTRIBUTO E SOVVENZIONE, AL LIMITE ANCHE DANARO, MA VANNO BENE PURE PROSCIUTTI, FORMAGGI, SIGARETTE, BUONI PASTO, BIGLIETTI DEL TRAM, LIQUORI , POLLAME E ORTAGGI.
Cover from :
Shang-Chi. Maestro del Kung Fu v1 # 17
Assalto tra i marosi
Editoriale CornoSettembre 1976
Contiene inoltre : I FIGLI DELLA TIGRE
redazionali : Il favoloso mondo del Kung-Fu – IL MAESTRO CHARLES HU PRATICA IL WAH K'UN di Cesare Barioli
Featured Characters:
Supporting Characters:
Villains:
Other Characters:
Locations:
Vehicles:
Ile de France, an ocean liner
Synopsis
In a Marseilles park, Black Jack Tarr and Clive Reston watch Shang-Chi meditate. Sir Denis Nayland Smith returns from the "local office" with a new mission: he, Tarr, and Shang-Chi will return to London via the Ile de France, an ocean liner, while Reston and Doctor Petrie will fly back. Shang-Chi thinks, "I assumed we would return to New York. In my concentration, then, I have … missed something." On their way to the docks, Smith explains that one of their agents has some documents that must reach London. They have passed through several hands, so he has no idea who has them now. He does know that several foreign powers want the documents.
At the dock, Shang-Chi helps a blind woman carry her luggage aboard. Smith checks in with the captain, who doesn't like the "special considerations" he has to extend to their party and having to bump "less worthy" passengers. At dinner that evening, Shang-Chi sees the blind woman and mentions that she seemed interested in their conversation with the captain. Smith suggests inviting her to their table. She introduces herself as Therese Beswick. Shang-Chi, listening to her guarded conversation with Smith, thinks, "In cryptic phrases, each seems to toy with the other."
A yell comes from the deck. Shang-Chi stops three men from throwing another overboard. To rescue the victim, though, he has to let the others escape. The captain wants to arrest Shang-Chi, Smith, and Tarr for creating a disturbance. The victim says that Shang-Chi saved him and that his attackers wanted some documents. Back inside, they find Beswick missing. A waiter says that hooded goons took her.
Next morning, Beswick is still missing. A storm rises. While looking for Beswick, Shang-Chi is attacked by crew members. He, Smith, and Tarr find the captain dead, stabbed repeatedly by a dagger. The lone conscious "crew" member says that the real crew is "held captive … ten kilometers outside Marseilles." Shang-Chi goes to look for Beswick, while the storm rises.
At the earlier victim's cabin, Shang-Chi finds four hooded goons trying to get the documents. He defeats three of them. The fourth escapes to the deck. Blocking her dagger attack, he pulls off her hood and finds Beswick. She attacks again. He ducks. She goes over the rail. He throws a life ring to her.
Everyone gathers around Smith on deck. He explains that the original victim is not the agent; that he is the agent; that he hid the documents in the life ring, so they are now illegible; that they were meaningless and served only as bait in a trap. Shang-Chi walks away and thinks, "In my concentration, then, I have … missed something. The storm continues."


Featured Characters:
Supporting Characters:
Villains:
Mordillo/Simon Bretnor (First appearance)
Other Characters:
Locations:
London
Mordillo's island, East China Sea
Synopsis
Shang-Chi, Denis Nayland Smith, and Black Tarr reach London's Victoria Station after their sea voyage. Clive Reston has a car there to pick them up. A robot walks toward Reston, begins saying, "Mis-ter-Res-ton-I-pre-sume," and fires bullets from gun barrels set in its eye sockets. Shang-Chi kicks it and Smith shoots it, both without effect. Shang-Chi, guessing that its armor is not proof against its own bullets, twists its head over so that it shoots itself. Tarr comments that it looks like a Mordillo creation, except that Mordillo is dead. He goes on to tell Shang-Chi that Mordillo was a world-class assassin and a world-class loon; he preferred to use offbeat machines.
first appearance of Leiko Wu
Reston takes Shang-Chi to his new place, an apartment on King's Row. They find Leiko Wu using his bathtub. Reston strongly hints that he and Leiko were lovers; she hints just as strongly that the relationship is over. Smith calls and asks them to come to Scotland Yard. Once there, they learn that the bullets fired at Reston all have the same inscription on the base: "MY FAIR LADY." That ties Reston to agent Norris Putnam, recently killed by bullets similarly inscribed with "DED CBCD ABC BCD." Putnam's contact, Simon Bretnor, is now missing. When Leiko hears this, she slips out of the meeting. Putnam's last assignment was to protect the report from Project: Ultra-Violet, a scheme to open holes in the ozone layer at specific locations; unfiltered sunlight could kill anyone outdoors at such a location. The cryptographic team reports that, when assigned to musical notes, these letters are the refrain of "London Bridge Is Falling Down"—and Putnam was shot on Tower Bridge.
Shang-Chi and Tarr go to Tower Bridge, where Putnam may have left a clue so important that the enemy is willing to blow up the bridge to keep it hidden. They find a construction van parked on the bridge. The goons inside the van attack. After Shang-Chi and Tarr defeat them, Shang-Chi finds a bomb attached to a girder. He throws it into the Thames, where it explodes.
Reston and Smith arrive, carrying a note Reston found at Leiko's place: "If you love me at all, meet me at the usual place~~Simon." Smith says that the Project: Ultra-Violet research was shredded, but there is a copy hypnotically placed in Leiko's mind, along with a command to forget that she had it. Only Putnam had the code word to unlock the hypnosis. Between two bricks, they find Putnam's clue: a note that says, "Bretnor is Mordillo," along with the latitude and longitude of his base in the East China Sea.
At that moment, Bretnor/Mordillo and his captive, Leiko, are landing on his small island in the East China Sea ….
Notes
This is the beginning of the three-part "Mordillo" story-arc.
Leiko Wu becomes a regular supporting cast member beginning with this issue.



Featured Characters:
Supporting Characters:
Items:
Synopsis
Continued from last issue…
An unlimited love and their amulets of power are the magic strength taking hearts and muscles of Bob and his chinese girlfriend Lotus.
Meanwhile, Sweet Little Ching is looking for Mino, a latin lover from Broccolino.
Shang-Chi. Maestro del Kung Fu v1 # 15
Morte di uno spirito
Editoriale CornoLuglio 1976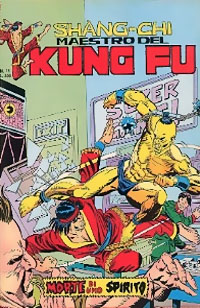 Contiene inoltre : I FIGLI DELLA TIGRE
Featured Characters:
Supporting Characters:
Villains:
Locations:
Items:
ruby eyes of Seth-Amon (last appearance)
Synopsis
Shang-Chi visits a penny arcade in Times Square to "observe," but he does not understand the attraction of the games with their lights and noises. Black Jack Tarr and Clive Reston pick him up and tell him that Sir Denis Nayland Smith has been kidnapped. The only clue is a bamboo tube (used for passing messages; last seen in Special Marvel Edition #16, in Italy in SCMKF # 2). Shang-Chi opens it and pulls out a note: "we will talk under the tree where a little spirit was slowly shaped." He understands that it came from Fah Lo Suee.
He remembers the tree. Fu Manchu led him there to meet his half sister for the second time (their first meeting appeared in issue #26, in Italy in SCMKF # 12). Fah Lo Suee showed him a bonsai tree and asked which was more beautiful: the small tree, meticulously trimmed, or the large tree, shaped by nature? Shang-Chi could not make a choice. Fah Lo Suee pointed out that nature is not evil, whereas human agency can be, and that Shang-Chi himself was being slowly shaped by his father: "some day you may be called upon to wield your choice."
Tarr, Reston, and Shang-Chi fly to China. Shang-Chi climbs across the plane and disappears before Tarr and Reston can exit. He breaks into his father's fortress, finds Fah Lo Suee on Fu Manchu's throne, and follows her to the tree in the courtyard. She has the ruby eyes of Pharaoh Seth-Amon (obtained in issue #26, in Italy in SCMKF # 12), now made into earrings, and is using them to hypnotize members of the Si-Fan to serve her instead of Fu. She asks Shang-Chi to ally with her against Fu Manchu. "I cannot now choose between two forms of the same evil," he answers. She claps her hands and orders her Si-Fan to kill him.
Shadow-Stalker leads the attackers. To everyone's surprise, he turns and tells Shang-Chi they will fight back to back. Fah Lo Suee watches the brief battle with dispassion and flees. Shadow-Stalker explains his decision: together, he and Shang-Chi could beat anyone, so they should take over the Si-Fan. Shang-Chi demurs. Shadow-Stalker tells him that Smith is in the dungeon, and he leaves.
Shang-Chi breaks Smith out of his cell. Only then do Tarr and Reston arrive. Shang-Chi shows them the ruby eyes, which he took during the fight, and smashes them together. He thinks, "I have learned that this fortress is much like the arcade … a place of games I do not understand."
Notes
This issue includes the second chronological appearance of Fah Lo Suee
Featured Characters:
Supporting Characters:
Villains:
Locations:
Vehicles:
Synopsis
Shang-Chi meets with Sir Denis Nayland Smith in his New York townhouse. Black Jack Tarr, Clive Reston, and Doctor Petrie also attend. Smith has a offer for Shang-Chi: become an informal agent of the British Secret Service and fight evildoers besides Fu Manchu. Their current target is a heroin kingpin. Smith takes Shang-Chi to the Spengler Rehabilitation Clinic and shows him how heroin can destroy the spirit. Shang-Chi has reservations about methodology but accepts the offer.
On a seaplane to the Gulf of Lions in southern France, Smith briefs Shang-Chi on the mission. Reston has become a buyer named Mr. Blue. He will go on ahead to Carlton Velcro's lavish estate and make a large purchase. Instead of leaving with his heroin, though, Reston will locate Velcro's warehouse and dispose of its contents, thus bankrupting Velcro. Shang-Chi and Tarr will use SCUBA gear to reach the estate through undersea tunnels and create a diversion so that Reston can escape. Every second counts.
Reston, as Blue, meets Velcro and an unexpected development: an "employee" named Razor-Fist. The man has had his hands replaced with swords. He demonstrates their effectiveness by slicing a statue into pieces. A pair of guards escort Reston to his room. Forty-five minutes later, on schedule, he distracts the guards and escapes. He also sets off a silent alarm, which is not part of the plan.
Petrie takes the seaplane over the estate to reconnoiter before dropping Shang-Chi and Tarr into the sea by parachute. They follow the tunnels and surface in the grotto. Thanks to the alarm, though, men with machine guns and black panthers patrol the beach. Tarr disables them with a concussion bomb.
Reston makes his way to the warehouse and enters through a window, which sets off another alarm. He finds sacks of heroin piled to the ceiling, a much larger store than expected, but gamely goes about slashing the sacks and dousing them with a fire extinguisher. Velcro sends his two bodyguards to the front entrance and takes some guards to the warehouse.
Tarr leaves Shang-Chi at the foot of the causeway and tells him to wait for an explosion. Moments later, some guards spot Tarr. He uses a gas bomb on them. Shang-Chi naturally assumes that's the signal and crosses the causeway, beneath which lies a pit full of black panthers. Velcro's two bodyguards barely have time to realize they're in a fight before Shang-Chi throws them off the causeway. Velcro reaches the warehouse and captures Reston. Smith and Petrie, in the seaplane offshore, wait for the signal to pick up their agents. Shang-Chi kicks open the front door and meets Razor-Fist ….
Notes
For the first time, neither Fu Manchu nor his minions appear in a Master of Kung Fu story.
Featured Characters:
Supporting Characters:
Villains:
gunmen
Gerald Mills (Death)
"Miss Devon"/Caxon (Death)
Captain Barkan (Death)
Locations:
Items:
Synopsis
Continued from last issue…
Remo and romolo were the sons of the she-wolf, Romeo and Juliet were the sons of guilt, but the SONS OF THE TIGER are real losers because they are moreover colored.
Shang-Chi. Maestro del Kung Fu v1 # 16
L'antro dei leoni
Editoriale CornoAgosto 1976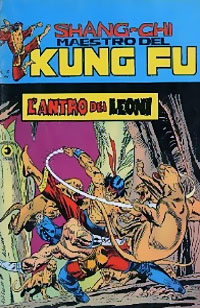 Contiene inoltre : I FIGLI DELLA TIGRE