Descrizione
ALBO ORIGINALE DEL 1975
in questo numero doppia prestazione per la ormai imbarazzante ed inservibile DONNA GATTO (THE CAT), il primo fallimentare supereroe marvel con le mestruazioni, dapprima a sorreggere il ragnatelone di SPIDERMAN nella storia principale e indi nel terzo nonchè penultimo episodio della sua trascurabile e deludente serie privata , anche se in realtà il primo è successivo al secondo (e anche a quello dopo che sarà pubblicato nel prossimo numero) ma tanto chi volete che se ne accorga, comunque – per farla breve – dopo la avventuretta con l'arrampicamuri la povera micettina resterà talmente delusa e traumatizzata che smetterà per sempre di miagolare e fare le fusa e si trasformerà nella più aggressiva mangiauomini Tigra (cosa purtroppo mai vista in Italia, neanche a Fuori Orario)
contiene inoltre : LA DONNA GATTO ( in versione solipsistica alle prese con un goffo e scalcinato imitatore di Capitan Hook Uncino )


CONDIZIONI : BUONISSIME, SEGNI A BIRO IN SECONDA DI COPERTINA, L' ALBO NON E' DI BUSTA
Featured Characters:
Villains:
Other Characters:
Karl Lubbings (First appearance) (Only in flashback) (Death)
Mayor Samuels (Dies in flashback)
Ms. Cartwright (Only Appearance)
Drake (Only Appearance)
Watkins (Only Appearance)
Locations:
Items:
Vehicles:
Synopsis
While web-slinging through the city, Spider-Man is confronted and has a brief battle with the Cat. After their brief battle, she asks for Spider-Man's help in stopping the Man-Killer, a man-hating female super-human responsible for the assassination of various political figures in Chicago. Telling Spidey that the Man-Killer has relocated to New York, Spider-Man agrees to help the Cat.
Meanwhile, the Man-Killer finds that her associates have been hiring men to help in her criminal endeavors. This causes her to lash out, and explain to the others that she doesn't trust men following a near-fatal skiing accident. When running rampage in her battle car, Man-Killer is confronted by Spider-Man and the Cat. During their fight, they learn that her equipment and powers were designed by A.I.M., an organization that is primarily comprised of men. Unable to deal with this fact, the Man-Killer suddenly goes into a state of shock, and Spidey and the Cat leave her for the authorities to collect.
Notes
Featured Characters:
Villains:
Other Characters:
Locations:
Synopsis
On
the splash page, we saw the Cat driving a speedboat on Lake Michigan,
with a cabin cruiser in pursuit. She was spotlighted from behind by two
searchlights. She detoured through a marina to try to shake her
pursuers, but struck an embankment and was thrown into the water. Her
pursuers fished her out, puzzled by the unconscious woman in the strange
feline attire.
We then saw, in a flashback, how Greer ended up
in her situation. After the Owl escaped, she retrieved her civilian
clothes and locked herself back in the closet in his building. The
police let her out and escorted her back to Dr. Tumulo's hospital. At
her doctor's suggestion, Greer moved her old professor to a house in the
country. When Ben Richards called to see how Dr. Tumulo was doing,
Greer talked him into taking her along scuba diving from his boat. While
diving in Lake Michigan, her super-sensitive hearing detected a sonar
signal coming from the bottom. After Ben took her dining and dancing,
Greer palmed his boat keys and returned that night to investigate.
The
unmasked Cat awoke as her captors were taking a pressurized elevator to
a transparent dome on the lakebed. There, she witnessed uniformed men
and women working in a futuristic setting. When I.O. Belag questioned
her, Greer demanded to know what they were doing? Just then, an intruder
alarm sounded. Belag hurried out, leaving Greer with a guard. She
knocked him out with a left cross, then hid his body. She put on her
cat-themed headgear again, then escaped down a corridor. When someone
approached from the other direction, she ducked into a compartment.
There she found racks of U.S. Navy dress uniforms. The Cat assumed she
was in some secret government project. She used her claws to climb a
wall, and looked down for the cause of the sounds of a struggle.
Below
her, the Cat saw Belag and his crew being held at gunpoint by Commander
Kraken and his band of pirates. The Sub-Mariner had destroyed Kraken's
previous vessel, and he intended to take the dome as his new base. The
Cat leapt to their defense, defeating the pirates and sending Kraken
fleeing. Then she asked Belag why he hadn't told her he was a government
agent? Belag replied they weren't sure who she was. She told them she
was Greer Nelson, and how she came to be the Cat. They agreed to keep
each other's confidences. Greer returned to the surface while Belag and
his captain discussed their project. They concluded they'd finished
their research and would alter their plans.
Back on the lake
shore, Greer doffed her Cat uniform. She turned at a loud noise, and
witnessed a huge half-orb rise from the lake. Her friends had been
aliens, and her pride in her abilities had prevented her from realizing
it.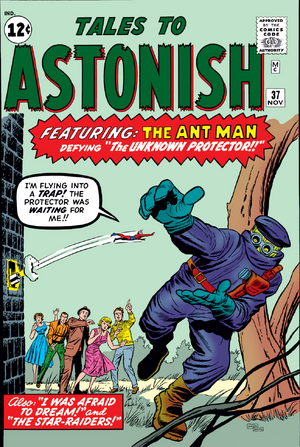 Afraid to Dream! / PAURA DI SOGNARE
comic story /
5

pages
Credits
Script:

Stan Lee (plot) ?; Larry Lieber (script) ?

Pencils:

Don Heck (signed)

Inks:

Don Heck (signed)
Content Information
Genre:

occult

Characters:

Harry Fiske

Synopsis:

A
man whose dreams come true is terrified when he dreams his own death.
He isolates himself all day, but is killed by an avalanche.