Descrizione
CAPITAN AMERICA EDITORIALE CORNO
ALBO ORIGINALE DEL 1976
nell' episodio principale dell' albo, a dar man forte al Capitano a stelle e strisce ci sono – oltre al consueto volatile alla brace Falcon pagato con i voucher inps – anche i cromosomi scarmigliati e poco ortodossi degli X-MEN (compreso l' ex membro mutante ma sempre molto poco umano Bestia) che invece presenteranno alla fine regolare fattura con ritenuta d' acconto per prestazione d' opera (pia)
all' interno : LUKE CAGE (ancora fresco di promozione a POWERMAN)
a pagina 41 inoltre Luciano Secchi ci tiene a farci sapere che ha partecipato alla Marvel Convention di New York, beato lui
CONDIZIONI : QUASI OTTIME, BORDO INFERIORE LEGGERMENTE ABRASO CON UN PAIO DI MINUSCOLI FRAMMENTINI MANCANTI NELLA PUNTA DELL' ANGOLO INFERIORE DESTRO DI COPERTINA, L'ALBO NON E' DI RESA
LEGENDA STATO DI CONSERVAZIONE
condizioni ECCELLENTI (o anche EDICOLA e/o MAGAZZINO) = si intende un oggetto nuovo e perfetto oppure usato senza difetti e praticamente ancora come nuovo, tenendone per quest'ultimo caso in conto ovviamente la datazione ; corrisponde a un range di grading internazionale compreso tra 8,5 e 9,8 (non assegniamo punteggi superiori a 9,8 perchè trattasi di tipi ideali a ns avviso più teorici e scolastici che reali e concreti, ogni manufatto umano in natura ha una percentuale insita e congenita seppur infinitesimale di imperfezione)
condizioni OTTIME = oggetto nuovo (o talora anche usato ma maneggiato e conservato con molta cura) in cui non si riscontra alcun difetto rilevante e degno di nota, tutt'al più qualche minimo segno di lettura o di uso ; corrisponde a un range di grading internazionale compreso tra 7 e 8,5
condizioni BUONISSIME = oggetto usato (ed in taluni casi anche fondo di magazzino soggetto a piccole usure del tempo) con lievi imperfezioni e difetti poco vistosi, generalmente molto marginali ed appena percepibili ; corrisponde a un range di grading internazionale compreso tra 5,5 e 7
condizioni MOLTO BUONE = oggetto usato con imperfezioni vistose e difetti abbastanza spiccati, pur se non completamente invalidanti (generalmente specificati nel dettaglio alla voce CONDIZIONI nella parte inferiore della descrizione di ogni singolo oggetto); corrisponde a un range di grading internazionale compreso tra 4 e 5,5
condizioni PIU' CHE BUONE / MEDIOCRI = oggetto usato con imperfezioni e difetti evidenti, smaccati, madornali ed invalidanti, assolutamente non collezionabile tuttavia idoneo per la semplice lettura o documentazione ; corrisponde a un range di grading internazionale inferiore a 4
per eventuali ulteriori dettagli aggiuntivi e specifici si prega di fare sempre riferimento alla voce CONDIZIONI nella parte inferiore della descrizione di ogni singolo oggetto
GRANDISSIMA DISPONIBILITA' DI TUTTI I SUPEREROI CORNO E NON, SONO GRADITE LE VOSTRE MANCOLISTE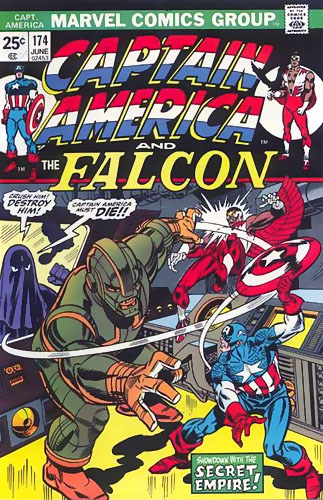 Featured Characters:
Villains:
Other Characters:
Locations:
Items:
Synopsis
Cap and Falcon are disguised as possible employees of the Secret Empire to gain entry into their secret base to spy on what they are planning. They are found out and almost executed by laser beams. They are able to escape down an exhaust vent and then find a way to let in Professor X, Cyclops, and Marvel Girl who are looking for lost X-Men and some othe X-Men's villains who have mysteriously disappeared. They locate the missing mutants, Beast, Iceman, Angel, Lorna Dane, Havok, Mastermind, Blob, Unus, and Mesmero who have been attached to a turntable that will use their mental patterns to project a force field. The mutants are set free, but then the Secret Empire uses the Atomic Annihilator on the heroes and appear to kill them all.
Notes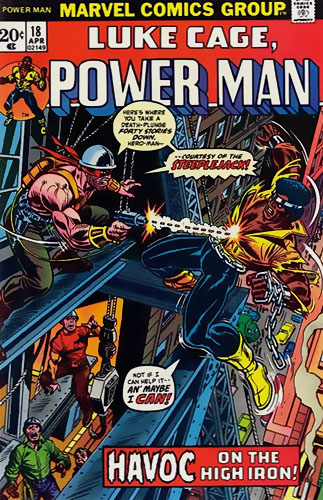 Featured Characters:
Supporting Characters:
Villains:
Other Characters:
Locations:
Synopsis
Luke Cage is visiting the grave of Reva Connors because he feels that everyone he gets close to ends up dying in the end. Claire finds Luke at the grave, and the two decide to stay together no matter what. On their way back into the city, they happen upon a new costumed criminal named Steeplejack who is threatening to throw building mogul Maxwell Plumm from a partially constructed building to his death. Luke saves Plumm from a deadly fall, and in the ensuing battle with Steeplejack, Steeplejack manages to escape.
Luke is told by Plumm that Steeplejack is Jake Mallard, a construction worker whose two brothers fell to their deaths working the girders. Mallard blamed Plumm for the accident and vowed revenge. Plumm hires Power Man to protect the building that he is defending. That night, Luke gets into another battle with Steeplejack, which ends in Steeplejack's death when one of the girders he melted gave way and he fell to his death.
Later that night Luke gets a call from Flea calling for help, Luke finds Flea dying in an alley. Before he dies, Flea tells Luke that he was poisoned by a criminal named Cotton Mouth.
Synopsis
A man tries to shock his aunt into an early grave so he can get her money by pretending he sees the mark of death in her palm. At first he thinks his ploy has failed, because she doesn't show much of a reaction, but later in evening she visits him with a gun and shoots him because she is concerned no one will be around to care for him after she's gone.