Descrizione
cod.EA-O
CAPITAN AMERICA EDITORIALE CORNO

da sempre il sogno americano offre una gamma di possibilità sterminate ed inimmaginabili per riuscire ad affermarsi e sfondare nella vita, infatti negli Stati Uniti chi non ha voglia di faticare può scegliere tra tre alternative: fare il pornodivo, la rockstar, oppure il super-eroe.

non particolarmente dotato per quel che riguardava le dimensioni dell' attrezzo nè per le sue prestazioni endurance, e soprattutto essendo irrimediabilmente e scandalosamente stonato, Steve Rogers optò per la terza soluzione, e si dedicò all' attività di buffone mascherato, indossando un bel costume tutto a stelle e strisce proprio come la bandiera della Bolivia
non essendo mai stato un modello di continuità e assiduità , cominciò però ben presto a prendersi delle lunghe pause di riposo e a rimanere spesso e volentieri a casa in mutua adducendo le patologie più disparate e insolite grazie a certificati medici compiacenti, mentre in realtà non aveva nulla e stava benissimo, negli anni del dopoguerra marcò visita addirittura per circa 15 anni consecutivi, finchè Stan Lee non lo trovò indecorosamente ubriaco in un bar del bronx nell' orario della visita fiscale, e lo precettò costringendolo a tornare al lavoro. ma il lupo, si sa, perde il pelo ma non il vizio, e così anche ultimamente ha tirato indietro le sue chiappettine incartapecorite facendo finta di essere morto, gli hanno anche fatto il funerale, ma tanto non ci crede nessuno, si tratta invece certamente di una raffinata strategia di tanatosi mimetica, cui ricorrono anche molti animali come l' opossum, il cinghiale, l' insetto foglia o il serpente muso di porcello, insomma è tutta una vile e diabolica scusa per non fare un bel nulla

nelle edicole italiane il n.1 di CAP uscì il 23 Aprile 1973, ovvero alla immediata vigilia della famigerata austerity, e già questa piccola ma non trascurabile coincidenza avrebbe dovuto far toccare le palle a qualcuno all' interno della Corno. infatti anche qui da noi svernò parecchi anni da vero e proprio mangiapane a tradimento, stipendiato senza fare un cacchio, finchè non ha provveduto la Madia a sistemarlo con uno dei suoi provvidenziali ed inesorabili decreti anti-fannulloni
ALBO ORIGINALE DEL 1973
in questo numero altre due storie complete di CAP dove torna la agreste e selvatica BLACK PANTHER, che aveva già fatto debutto e cassetta sulle pagine dei F4, e gli avidi ed ingordi editor e manager marvel sperano di ripetere anche qui lo stesso exploit, dato che i negri ovunque essi siano sia a soweto che ad harlem che nell' alabama fanno tantissimi figli che poi oltre a spacciare droga e giocare a basket si comprano e si leggono pure queste stronzate su carta chiamate comics o fumetti
contiene inoltre : X-MEN
CONDIZIONI : OTTIME, L' ALBO NON E' DI RESA
LEGENDA STATO DI CONSERVAZIONE
condizioni ECCELLENTI (o anche EDICOLA e/o MAGAZZINO) = si intende un oggetto nuovo e perfetto oppure usato senza difetti e praticamente ancora come nuovo, tenendone per quest'ultimo caso in conto ovviamente la datazione ; corrisponde a un range di grading internazionale compreso tra 8,5 e 9,8 (non assegniamo punteggi superiori a 9,8 perchè trattasi di tipi ideali a ns avviso più teorici e scolastici che reali e concreti, ogni manufatto umano in natura ha una percentuale insita e congenita seppur infinitesimale di imperfezione)
condizioni OTTIME = oggetto nuovo (o talora anche usato ma maneggiato e conservato con molta cura) in cui non si riscontra alcun difetto rilevante e degno di nota, tutt'al più qualche minimo segno di lettura o di uso ; corrisponde a un range di grading internazionale compreso tra 7 e 8,5
condizioni BUONISSIME = oggetto usato (ed in taluni casi anche fondo di magazzino soggetto a piccole usure del tempo) con lievi imperfezioni e difetti poco vistosi, generalmente molto marginali ed appena percepibili ; corrisponde a un range di grading internazionale compreso tra 5,5 e 7
condizioni MOLTO BUONE = oggetto usato con imperfezioni vistose e difetti abbastanza spiccati, pur se non completamente invalidanti (generalmente specificati nel dettaglio alla voce CONDIZIONI nella parte inferiore della descrizione di ogni singolo oggetto); corrisponde a un range di grading internazionale compreso tra 4 e 5,5
condizioni PIU' CHE BUONE / MEDIOCRI = oggetto usato con imperfezioni e difetti evidenti, smaccati, madornali ed invalidanti, assolutamente non collezionabile tuttavia idoneo per la semplice lettura o documentazione ; corrisponde a un range di grading internazionale inferiore a 4
per eventuali ulteriori dettagli aggiuntivi e specifici si prega di fare sempre riferimento alla voce CONDIZIONI nella parte inferiore della descrizione di ogni singolo oggetto
GRANDISSIMA DISPONIBILITA' DI TUTTI I SUPEREROI CORNO E NON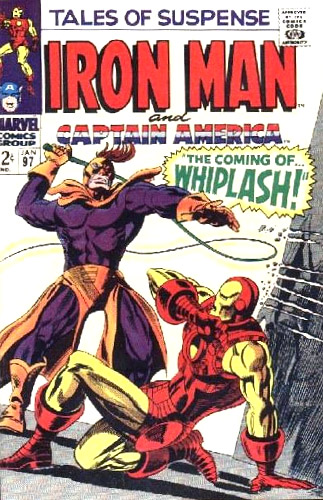 Featured Characters:
Supporting Characters:
Villains:
Locations:
Items:
Vehicles:
Black Panther's Drone Plane
Synopsis
When answering a call for help, Captain America soon realizes that he has walked into a trap setup by the crime syndicate which is trying to rub him out.
After making quick work of the thugs that were hired to eliminated him, Cap reflects that this is the price he must pay to be Captain America. Meanwhile in Wakanda, the Black Panther finds that one of his outposts has been ambushed and wiped out.
He soon finds a group of costumed and armed soldiers prowling the jungles and attacks them. They are quickly able to neutrilize his attack.
Back in the States, Cap is at the local police precinct where he identifies his attackers for the police and is driven home where he thinks about Agent-13, and how she hasn't returned any of his calls.
While he thinks about this, Agent-13 has just succeeded in taking the place of female spy Irma Kruhl for a secret mission for Nick Fury.
Back at Avengers Mansion, Cap hears a thump on the roof and goes up to investigate, there he finds a shup that calls him forward. Entering it he finds T'Challa (aka the Black Panther) on the video monitor asking for Cap's aid because the invaders of his land are somehow tied to Captain America.
Accepting the call, Cap presses the button to start up the automatic pilot to fly to Wakanda..
Featured Characters:
Supporting Characters:
Villains:
Locations:
Items:
Zemo's Solar Heat Projector
Repello Gas

Vehicles:
Black Panther's Drone Craft

Synopsis
Answering a distress call to come to Wakanda to stop a menace that has ties to Cap's past by the Black Panther, Captain America is aboard a ship en route to the African nation of Wakanda to lend his help, however he is almost shot out of the sky by a ray blast from space. Just managing to make a safe landing, Captain America is approached by the Black Panther and his followers.
Not wanting to risk being caught in a trap, Cap attacks the Black Panther and the two fight it out until they realized both are who they truly are. Meanwhile elsewhere, the mysterious leader of the Wakandan invaders is furious that his scientists failed to kill Captain America with their solar ray. In one final attempt to redeem themselves (or face death) they promise to initiate Plan Red in order to destroy Captain America and the Black Panther. Back with Captain America and the Black Panther, the Panther allows Cap to see the solar ray weapon with a telescopt from space.
The two decide to attack the invaders head on, striking the control center which is hidden somewhere in Wakanda.
Along the way they attack a group of soldiers, and are knocked out by their stun rays. Elsewhere, Agent-13, disguised as female spy Irma Kruhl, arrives in Wakanda to infiltrate the invaders group, convincing them that she is really Irma and joining their ranks with the intention of bringing them down from the inside.
A short time later, Captain America and Black Panther come around to find themselves alone, however as they charge further into the jungle to get to the base, they run right into the enemies trap, a giant pit which they fall into. They are then cocnfronted by the leader of the invasion: Baron Zemo…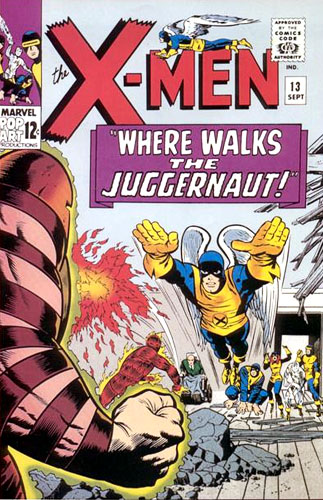 Featured Characters:
Supporting Characters:
Villains:
Other Characters:
Matt Murdock (Cameo)
Phil (co-pilot) & unnamed pilot (Appears in shadow only)
Charlie(First appearance) & other students (friends of Johnny Storm)
Unnamed jury members & judge
Locations:
Items:
Vehicles:
Johnny Storm's Corvette Stingray
an airplane
Synopsis
The Juggernaut — Charles Xavier's mystically enhanced step-brother — has finally returned home to once more renew his rivalry with his brother. Charles attempts to protect himself with his vast mental powers, but finds to his shock and surprise that Cain's helmet protects him from mental attacks. The X-Men revive and with Marvel Girl's telekinetic powers tripping up the Juggernaut, Cyclops blasts the floor out from under their foe causing him to crash to the floor below, giving the X-Men time to retreat back and try to come up with a means of defeating their attacker.
Xavier takes the X-Men to the lab and the Professor builds a device that allows him to amplify his mental projections and sends out a thought wave into the city to seek allies in defeating the Juggernaut.
Meanwhile, Cyclops and Angel go back to where they last saw the Juggernaut, attempting to keep him at bay using Cyke's optic blasts. However, the Juggernaut smashes his way around the two X-Men and gets the drop on them. Neither Angel's fists, nor Cyclops' optic blasts are capable of stopping their enemy.
Back in the lab, the Professor manages to contact both Rick Jone's Teen Brigade and Matt Murdock, (who is secretly the hero Daredevil) however, neither can come to the X-Men's aid. To stall for time, the Professor sends Beast and Iceman to go help Cyclops and Angel, who are having a hard time keeping the Juggernaut back.
As Iceman and Beast join the fray, Charles attempts to get the aid of the Fantastic Four's Johnny Storm (Aka the Human Torch) who is out testing a new modified car with some of his classmates. Hearing the Professor's mental call for help, Johnny assumes that it might be from one of the Fantastic Four's many villains and dismisses it.
Although he is trapped in an ice block, the Juggernaut manages to break free and battles the Beast in hand to hand combat.
The Beast only succeeds in getting his foot injured, however this does not stop the brainy mutant, who lures the Juggernaut into the Danger Room and activates all of its traps in the hope that it can defeat this seemingly unstoppable foe.
The Juggernaut survives the traps and then knocks the Beast out when he throws back a rolling cylinder.
By this time the Professor has finally managed to convince the Human Torch to come the X-Men's rescue, and then goes with Marvel Girl to help the others. Jean keeps the Juggernaut off balance by lifting him in the air with her telekinetic powers until the Torch arrives.
Johnny uses his flame powers to melt away the rivets from his helmet, and commands the reviving Angel to remove it from the Juggernaut's head. Without his protective helmet, the Juggernaut is easily struck down by the Professor's mental powers.
With the battle over, the Professor thanks Johnny for his help. He wishes that the secret of the X-Men's headquarters will remain a mystery and erases the memory from Johnny's mind and sends him on his way. Later, the male members of the X-Men are sent to bed to recover from the injuries they sustained battling the Juggernaut with Jean acting as their nurse, much to the pleasure of the men. Proud of his X-Men, the Professor tells him he has an award for them when they are once more able to be up and about.

Trivia
Werner Roth helped pencil this issue under the pseudonym Jay Gavin
This issue is the first X-Men issue where Marvel used the Marvel logo on the front cover stating, "Marvel Pop Art Productions". Marvel had attempted to change the name and found that the readers did not like the new change. After receiving multiple fan mail letters Stan Lee wrote in his Bullpen Bulletin that Marvel changed the name back to the original based on the number of letters they received.
The Human Torch makes his first appearance in the pages of this series.
Daredevil has a one-panel cameo in this issue. He doesn't turn up again in this title until #351, more than 300 issues later (in Italy in IXMP # 101).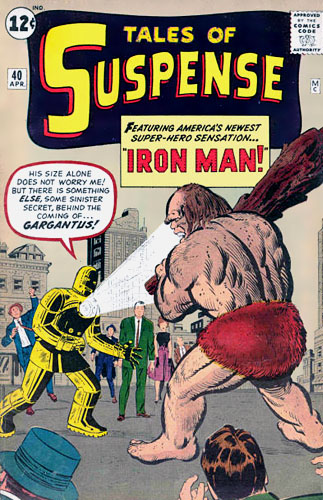 Synopsis
An unsuccessful artist tries to force a new painter to show him how to paint lifelike pictures. The painter is a sorcerer, and traps the artist in one of his paintings, the secret to his realism.